Coast and sea, open country, beautiful nature reserves with a wealth of bird life, small, pleasant farm shops ... On the pleasant stretch between Halmstad and Falkenberg, there's a lot to discover.
The trip continues west, toward one of the west coast's most be­ loved beaches: Tylösand. There, you can bathe in extra safety, as the beach is monitored by profes­sional lifeguards all summer long. Tylösand is followed by Frösakull, Ringenäs and Vilshärad's beach­es before the path turns east. At the windmill in Särdal there is a cute cafe and a farm shop.
Around the charming village of Steninge you'll find several beautiful naturereserves with unique beach meadows. Stop at Steninge youth hostel for coffee and pancakes at Plätteriet, or visit their cider bar.
The path takes you onward on Kust­ vägen to Ugglarp, where you can take a detour to Svedinos Bil & Flyg­ museum that has one of Europe's biggest collections of old cars and planes. Stretch your legs by the sea at Ugglarps havsbad. You continue cycling inland, pass­ing through rolling hills of agri­cultural land. Here, you can stop off at the viewpoint at Smörkull and Grimsholmen nature reserve before arriving at popular Skrea beach, with its long bathing jetty.
Halmstad – The summer city
The county town of Halmstad, which was granted its town charter in 1307, is Halland's largest city, with 100,000 inhabitants.
Halmstad is known as one of Sweden's best summer cities and offers many events and vibrant street life. The Kattegatt­ leden passes through central Halmstad and crosses the River Nissan, right next to Halmstad Castle. The county governor lives in the castle, which dates from the 1600s. It's not open to the public, but take the chance to rest your legs and look around the courtyard. Stora Torg square is on the other side of the street, a perfect starting point for shopping and dining at a restaurant. You can easily get around Halmstad on your bike. In several places in the municipality there are cycle pumps, where you can quickly and easily pump up your tyres at no charge.
Falkenberg – New memories are waiting to be made here
When you cycle through Falkenberg, you shouldn't be in too much of a hurry, because you'll want to stop several times. There are more than 13 kilometres of sandy beaches, rocks to bathe from and stunning viewpoints. In between, you'll find a small town with a wide range of things to see and do.
Falkenberg has small­town charm. A walk through the Old Town, where crooked houses line the cobbled streets, is a must. There, you'll find Tullbron, one of Sweden's most beautiful stone bridges. Continue your trip by taking a walk on one of the many beautiful paths around the River Ätran. Close by is the children's favourite, Vallarna, with a large playground, mini­ zoo, skatepark and an open­air theatre that offers an extensive programme throughout the summer. At RIAN design­ museum you can see Swedish and international design. Stor­gatan and Nygatan are the best shopping streets.
Falkenberg is a recognised food destination, with everything from cosy cafes to gourmet restaurants. Locally sourced produce is something close to the hearts of the restauranteurs, and you can visit several farm shops.
Practical information
Remember to check the opening times of the destinations and sights you intend to visit and ideally book your accommodation in advance!
Sweden's right of public access is a unique opportunity for everyone to roam freely in the countryside. But you also need to take responsibility for animal and plant life and show consideration for land owners and other visitors. Don't disturb – don't destroy, in other words. The right of public access is limited in national parks and nature reserves. It is always you as the person visiting the countryside who bears responsibility for being aware of the rules that apply in the area that you are visiting.
Also remember to keep the cycle path free of litter – take your rubbish with you to the nearest bin!
Surface 94% paved, 6% gravel.
Welcome to Kattegattleden!
50-75 km
Lätt
Nationell cykelled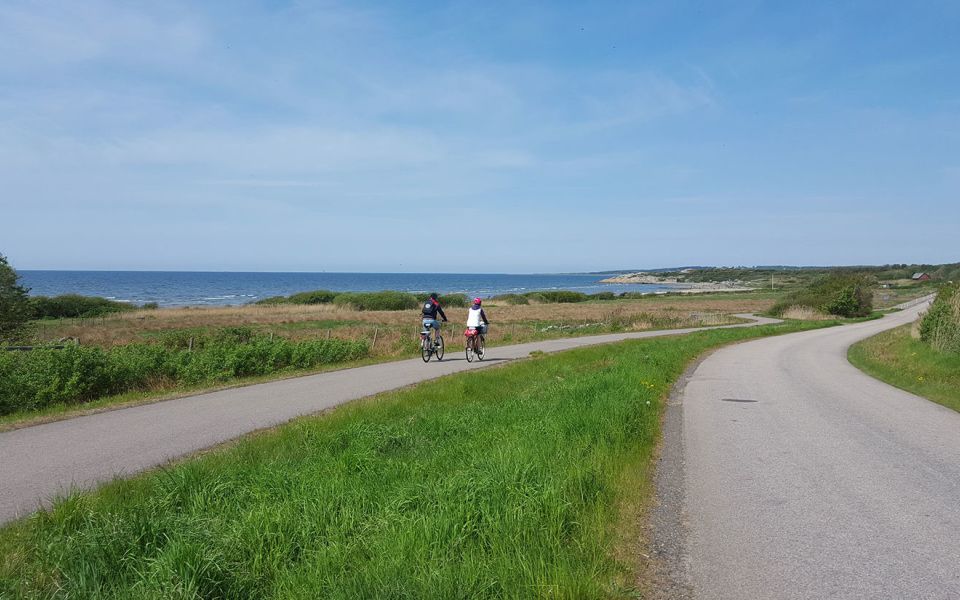 Sights & services along the stretches
Are you looking for sights, accommodation, eateries, services and more during your bike trip? Below, you will find bike-friendly places to visit along the stretches.
Hightlights worth a detour
Kattegattleden brings you closer to nature and guides you to many of the attractions on Swedens west coast. Here are some places worth a detour along the trail.
Show all
News
Here you will find information about what's new on the trail as well as current redirections and disturbances.
Show all
Share your experience
Share your experience by tagging your photos.