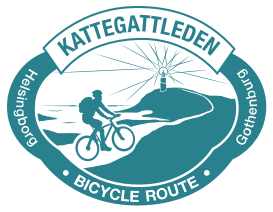 Trail section
Ängelholm - Båstad
Length

55 km

Degree of difficulty

Moderate
Foto: Båstad Turism & Näringsliv
This part of Kattegattleden is the most hilly stretch. Enjoy stunning views of the sea and the varied agricultural landscape of the Bjärehalvön peninsula.
Kattegattleden passes through central Ängelholm, right alongside the train and bus station, taking you on down to the beautiful dis­trict of Havsbaden. There, you'll experience a forest landscape, untouched nature and a wonderful wide, long sandy beach. Stop off at the beach kiosk to sample some Engelholms Glass, the town's own brand of ice cream.
The journey continues along the coast towards Skälderviken, through hamlets and fishing vil­lages. On the way you'll cross the Rönne å river – a perfect place to stop and do some canoeing or maybe take a relaxing trip on a SUP. You pass by Skepparkroken and Vejbystrand before turning off in Killebäckstorp towards picturesque Torekov. There are cafes, restaurants and you can also take the boat over to the island of Hallands Väderö. The path con­tinues from Torekov into the heart of the Bjärehalvön peninsula. You'll be greeted by a small­scale agricultural landscape typical of the Bjärehalvön peninsula, shaped by and based on cattle breeding since the prehistoric period.
You'll see the sea again at Norrvik­ens Trädgårdar and continue on the path towards Båstad harbour..
Ängelholm – City of activities and experiences!
Six kilometres of sandy beach, crystal clear water and pleasant sanddunes– Ängelholm, beautifully located in Skälderviken bay between the Bjärehalvön and Kullahalvön peninsulas, tempts you with magnificent nature experiences.
The Rönne å river winds through the town, enticing you to go canoeing or fishing. If you're lucky you might catch some salmon, pike or perch, and if you're passing through during the summer, a trip on the Laxen sightseeing boat is recommended.
In a leafy deciduous forest in the middle of town, you'll find Ängelholms Hembygdspark, a wonderful oasis for all the fam­ily. It features a zoo with Nordic animals, five different museums and a delightful playground. Will you dare to go on the walkway high up among the treetops?
The railway museum and Ängel­holm aviation museum are two museums suitable for the entire family, and in central Ängelholm you'll find everything from small, cosy shops and cafes to restau­rants where you can enjoy local produce.
Båstad – Active lifestyle all year round
Welcome to an unusually beautiful place offering a wealth of activities, experiences and enjoyment.
At the start of the 1900s Ludvig Nobel (nephew of Alfred Nobel) came to Båstad in the Bjärehalvön peninsula and fell in love with its natural beauty. He saw the potential for tourism and developed the area into an international visitor destination. He focused on activities such as golf and tennis, and today you will find no less than 41 tennis courts and 126 golf holes within a comfortable distance in attractive natural surroundings.
There are over 150 kilometres of designated hiking trails in Bjärehalvön. There, you can enjoy walking in the salty air, mile­wide views, magical beech forests and glittering sea.
Make sure you stop by one of the small­scale farm shops where you can browse the local produce. Wonderful holiday accommodation, warm baths and spa facilities offer you some well­deserved rest and recu­peration. It's easy to feel good in Båstad and Bjärehalvön, year round.
Practical information
Remember to check the opening times of the destinations and sights you intend to visit and ideally book your accommodation in advance!
Sweden's right of public access is a unique opportunity for everyone to roam freely in the countryside. But you also need to take responsibility for animal and plant life and show consideration for land owners and other visitors. Don't disturb – don't destroy, in other words. The right of public access is limited in national parks and nature reserves. It is always you as the person visiting the countryside who bears responsibility for being aware of the rules that apply in the area that you are visiting.
Also remember to keep the cycle path free of litter – take your rubbish with you to the nearest bin!
Surface 76% paved, 24% gravel.
Welcome to Kattegattleden!
50-75 km
Medel
Nationell cykelled
Sights & services along the stretches
Are you looking for sights, accommodation, eateries, services and more during your bike trip? Below, you will find bike-friendly places to visit along the stretches.
Hightlights worth a detour
Kattegattleden brings you closer to nature and guides you to many of the attractions on Swedens west coast. Here are some places worth a detour along the trail.
Show all
News
Here you will find information about what's new on the trail as well as current redirections and disturbances.
Show all
Share your experience
Share your experience by tagging your photos.