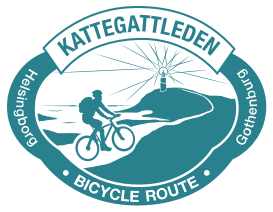 Trail section
Båstad - Laholm - Halmstad
Length

42 km

Degree of difficulty

Easy
Badbryggan i Skummeslövsstrand
This part of the path takes you along Sweden's longest sandy beach and through lush nature reserves.
From Båstad harbour, you follow the sea until you reach the pine forest in Hemmeslöv and cross the border between Halland and Skåne. A less challenging stretch along Laholmsbukten's long sandy beach now awaits. In family­friendly Skummeslövs­ strand you'll find restaurants and cafes. The sea is shallow and the landscape wide open.
A few kilometres inland lies beau­tiful Skottorp Palace and cosy Laholm, Halland's oldest town. It takes around 20 minutes to get from the path to Laholm.
A couple of kilometres north of Skummeslövsstrand, you'll come to Mellbystrand, a seaside resort with memories from times past. There, the dunes are higher and the sea wilder. You'll pass ice cream shops, minigolf courses and cafes and restaurants with outdoor seating.
North of Mellbystrand is a stretch along sand dunes, through a beach forest and naturereserve, past Lax­vik and out into open country south of Halmstad. Before you leave the sea, you can stop at Påarp's burial ground with its 220 Iron Age graves.
The path then passes Östra Stranden before it reaches Halmstad Castle.
Båstad - Active lifestyle all year round
Welcome to an unusually beautiful place offering a wealth of activities, experiences and enjoyment.
At the start of the 1900s Ludvig Nobel (nephew of Alfred Nobel) came to Båstad in the Bjärehalvön peninsula and fell in love with its natural beauty. He saw the potential for tourism and developed the area into an international visitor destination. He focused on activities such as golf and tennis, and today you will find no less than 41 tennis courts and 126 golf holes within a comfortable distance in attractive natural surroundings.
There are over 150 kilometres of designated hiking trails in Bjärehalvön. There, you can enjoy walking in the salty air, mile­wide views, magical beech forests and glittering sea.
Make sure you stop by one of the small­scale farm shops where you can browse the local produce. Wonderful holiday accommodation, warm baths and spa facilities offer you some well­deserved rest and recu­peration. It's easy to feel good in Båstad and Bjärehalvön, year round..
Make a detour! Laholm –The little town with the big works of art
Laholm is Halland's oldest town, and in the winding alleys of Gamleby, you can still get a sense of the Middle Ages, while Stortorget square is dominated by the attractive town hall from the 1700s.
On almost every street corner is a sculpture. Laholm is therefore known as "the little town with the big works of art". You'll also find Teckningsmuseet – the only museum in the Nordic region dedi­cated to drawing.
Laholm's award­winning town park has been designed based on the motto "wild is beautiful". There, you can walk through the Wild Forest, Woodland and Spring Hill. The River Lagan flows alongside the town centre. Enjoy smoked delicacies on the shore of the river, or go on a trip on the historical steam boat S/S Laga­holm. In cosy Laholm you will find places to stay, along with shops, cafes and restaurants.
You can easily get to Laholm town centre from Kattegattleden (about 20 minutes by bike). The path follows the sea and Swe­den's longest sandy beach. At Skummeslövsstrand and Mell­bystrand you'll find restaurants close to the beach, eateries with outdoor seating, cafes, ice cream bars and overnight accommoda­tion. The naturereserve features unique sand dunes and a magical pine forest.
Halmstad – The summer City
The county town of Halmstad, which was granted its town charter in 1307, is Halland's largest city, with 100,000 inhabitants.
Halmstad is known as one of Sweden's best summer cities and offers many events and vibrant street life. The Kattegatt­ leden passes through central Halmstad and crosses the River Nissan, right next to Halmstad Castle. The county governor lives in the castle, which dates from the 1600s. It's not open to the public, but take the chance to rest your legs and look around the courtyard. Stora Torg square is on the other side of the street, a perfect starting point for shopping and dining at a restaurant. You can easily get around Halmstad on your bike. In several places in the municipality there are cycle pumps, where you can quickly and easily pump up your tyres at no charge.
Practical information
Remember to check the opening times of the destinations and sights you intend to visit and ideally book your accommodation in advance!
Sweden's right of public access is a unique opportunity for everyone to roam freely in the countryside. But you also need to take responsibility for animal and plant life and show consideration for land owners and other visitors. Don't disturb – don't destroy, in other words. The right of public access is limited in national parks and nature reserves. It is always you as the person visiting the countryside who bears responsibility for being aware of the rules that apply in the area that you are visiting.
Also remember to keep the cycle path free of litter – take your rubbish with you to the nearest bin!
Surface 75% paved, 25% gravel.
Welcome to Kattegattleden!
25-50 km
Lätt
Nationell cykelled
Sights & services along the stretches
Are you looking for sights, accommodation, eateries, services and more during your bike trip? Below, you will find bike-friendly places to visit along the stretches.
Hightlights worth a detour
Kattegattleden brings you closer to nature and guides you to many of the attractions on Swedens west coast. Here are some places worth a detour along the trail.
Show all
News
Here you will find information about what's new on the trail as well as current redirections and disturbances.
Show all
Share your experience
Share your experience by tagging your photos.